School and Community Tours
Bard in the box
We provide 40-minute versions of Shakespeare, presenting the timeless stories of America's most produced playwright.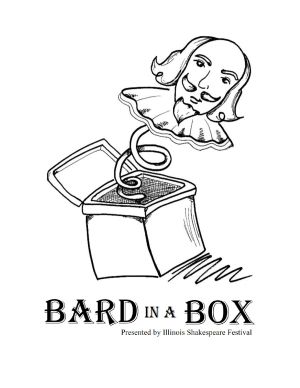 Only two dates remain for this spring. However, you can book now for the fall 2018.  Our company of seven actors will be available on Fridays during both semesters of the 2018-19 academic year. Our performance requirements are few and we can adjust to a variety of spaces.
Bard in a Box is also available to conduct workshops associated with performing Shakespeare's plays. The tour director is available to lead a question and answer session after the performance, if time allows.
Please contact John C. Stark at jcstark@ilstu.edu to request a performance date starting in November 2018. But hurry as the slots fill up quickly.
Remember...
"All the world's a stage" …. and Bard in a Box brings it to you!
---
The Reviews Are In!
What students are saying about the Illinois Shakespeare Festival Touring Company!
"Amazing!! I truly got goosebumps."
-Senior at Normal Community West High School
"It was my first time watching a play and I loved it!"
-4th grader at Joy in Learning Academy
"You made me understand the play so much better, thank you!"
-Sophomore at Normal Community West High School
"The way you included the audience was super awesome."
-Senior at Normal Community West High School
"Seeing Shakespeare performed live made it possible to enjoy the poetry more than I can while reading it myself."
-6th grader at Joy in Learning Academy