2016 Tickets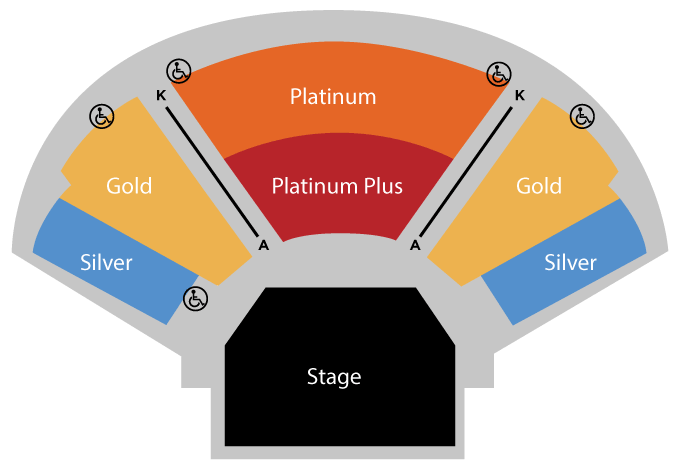 Platinum Plus Subscription Perks
Platinum Plus subscription includes Priority Parking until section is full, one free non-alcoholic beverage per show, one "New Friend" ticket for one show, and 20% discount on gift shop merchandise.
Season Subscription*
With a Season Subscription, exchanges are free up to 48 hours before the show. Also save up to $6 on facility fees by purchasing the three show season subscription.
Silver

Adult

$55

Senior/Student

$33
Gold

Adult

$80

Senior/Student

$60
Platinum

Adult

$105

Senior/Student

$94
Platinum Plus

Adult

$126

Senior/Student

$116
Individual Ticket Prices*
Buying individual tickets gets you the seat you want, when you want it.
Silver

Adult

Fri-Sat
$20
Sun-Thurs
$16

Senior/Student

Fri-Sat
$16
Sun-Thurs
$12
Gold

Adult

Fri-Sat
$29
Sun-Thurs
$25

Senior/Student

Fri-Sat
$25
Sun-Thurs
$21
Platinum

Adult

Fri-Sat
$39
Sun-Thurs
$35

Senior/Student

Fri-Sat
$35
Sun-Thurs
$31
Platinum Plus

Adult

Fri-Sat
$47
Sun-Thurs
$43

Senior/Student

Fri-Sat
$43
Sun-Thurs
$39
Promotional Items
*Please note each subscription and individual ticket is subject to a $2 facility fee.
---
How to Order Tickets
The Illinois Shakespeare Festival daytime ticket office is located on the Illinois State University Campus:
Center for the Performing Arts (click for map)
Walk-Up Hours: Monday-Friday 11:30-1:30 p.m.
Phone Hours: Monday–Friday, 11:30 – 4 p.m.
Day Phone: (309) 438-2535
Special Accommodations: (309) 438-5853 or email ableisu@ilstu.edu



Online:
Online ordering is done through Ticketmaster 

Online seats may also be viewed within our Daily Schedule.
For Tickets in Advance:
Metered parking is available on School Street in front of the Centennial East building. Park and walk next door to the CPA building. Box Office hours are listed above.
For Tickets the Night of:
Tickets are available for purchase at the Ewing Box Office Tuesdays-Thursdays beginning at 6:30 p.m., Fridays at 6 p.m., and Saturdays at 6:15 p.m. Sunday, July 10 tickets will be available at 6:30 p.m. and each Sunday thereafter tickets will be available at 5 p.m.
Ewing Manor (click for map)
Evening Phone: (309) 438-2535
Gift certificates available by calling our Ticket office.
Special Assistance
The Festival's theater was designed with numerous seats accessible by those persons requiring special assistance. Please notify the ticket office of special needs at the time of purchase. For those in need of wheelchair assistance or assisted listening devices at the performance, please alert an usher at any time.
Worried about the weather?
Due to the unpredictability of Central Illinois weather, we will not make an early cancellation decision prior to 5 p.m. on the day of a performance. At 5pm, we will post on our website whether we will be canceling the show or moving forward with the performance as planned.
In the case of rain during the performance, every effort will be made to complete the show, even playing through light showers. Should any performance be rained out before the first intermission, patrons have 2 business days to exchange their ticket(s) for another performance. If a performance is stopped after the first intermission, the evening will be considered complete and NO ticket exchanges will be made.
Please wear comfortable clothes and pack an umbrella when there are clouds. If you have questions, please call the ticket office at (309) 438-2535.