Tour & Events
Do you have tickets for today's performance? Extend your visit with pre-show entertainment or a tour!
---
Pre-show Entertainment
Every evening before our mainstage performances, the Illinois Shakespeare Festival offers free pre-show entertainment.
Live Jazz from Glenn Wilson and Friends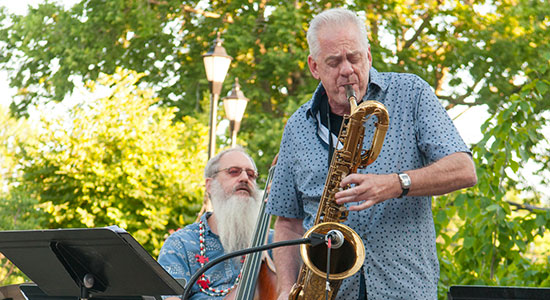 Green Shows

In addition to live music, we also offer Green Shows (named for the green lawn of the grounds) before the mainstage performances. Green Shows have ranged from mini performances of Shakespeare's works to strolling singers and folk groups.
---
Tours
Ewing Theatre Backstage Tours

Have you ever wondered what is behind the Illinois Shakespeare Festival scenery? Want to discover interesting bits of Festival history and how we put a season together? Join us on a tour of the extraordinary Ewing Theatre, where you will explore backstage rooms and learn how we craft the magical worlds onstage.
Tours begin by the Ewing Courtyard Box Office at 6 p.m. and last approximately 30 minutes.
The cost is only $10 per person. Tour capacity is capped at 25 patrons, so we recommend booking in advance. Contact the Box Office at (309) 438-2535 or book online.
Ewing Manor Tours

Ewing Cultural Center, located on the Sunset Hill estate of the late Hazle Buck Ewing, sits majestically on 6.5 acres of wooded landscape in Bloomington, Illinois. This beautiful estate, rich in local history, is preserved and elegantly maintained due to the generosity of prominent citizens who discovered a way to celebrate the area's culture, landscape, and nature.
Explore the historic building often called "The Castle" by locals. Davis and Hazle Buck Ewing built Ewing Manor in 1928-29. They lived in influential circles. Davis was a cousin of Adlai Ewing Stevenson, an Illinois governor and Presidential candidate. Hazle was an heir to the Wrigley Chewing Gum family. The manor's Channel-Norman architectural style and surrounding gardens, (created by the same landscape architect who also designed Springfield's Lincoln Memorial Gardens), make it one of the most beautiful historic homes in the state. And that holds true for the inside as well, with much of the home's original furnishings intact. Hazle bequeathed Ewing Manor and the surrounding grounds to the ISU Foundation which soon became a popular spot for student actors to perform scenes from Shakespeare plays, thus inspiring the Illinois Shakespeare Festival.
Learn more about booking a Ewing Manor Tour.