Full Synopsis
In the fairytale land of Sicilia, King Leontes thinks that his queen, Hermione, is having an affair with his childhood friend, King Polixenes of Bohemia. Struck with jealousy, Leontes convinces himself that Polixenes is actually the father of the child with which Hermione is pregnant. Leontes orders his councilor Camillo to murder the visiting king. But the good-natured lord decides to warn Polixenes and escape with him to Bohemia.
When Leontes learns of Polixenes and Camillo's flight, he jails Hermione, who gives birth in her cell. Only Paulina, the queen's lady-in-waiting, stands up to Leontes' raging tyranny. As punishment for Paulina's insolence, Leontes orders her husband Antigonus to personally take the baby far away to be banished. Leontes then holds a trial to judge Hermione's supposed adultery. Leontes also sends courtiers to the Oracle of Apollo to confirm Hermione's guilt, but instead she is proclaimed innocent. When Leontes refuses to accept the Oracle, a servant comes in to announce the death of his son and heir Mamillius. At this news, the Queen faints, is taken away, and pronounced dead. In one fell swoop, Leontes' life and family are destroyed. Meanwhile, an old shepherd and his foolish son discover the baby Perdita on the Bohemian shore and decide to adopt her.
Sixteen years pass. Perdita, now a young woman, has fallen in love with King Polixenes' son Florizel. His royal identity known only to Perdita, Florizel disguises himself as the shepherd Doricles to participate in the town's sheepshearing festival. Polixenes and Camillo disguise themselves to spy on Florizel and his love interest. The charlatan Autolycus, once a disgraced servant to Florizel, also joins the festivities to cheat and rob the simple country folk. When Florizel proposes to Perdita, Polixenes tears off his disguise and forbids their relationship. After Polixenes storms off, Camillo convinces the young lovers to sail to Sicilia and request protection from Leontes, who does not know that Perdita is actually his long-lost daughter. And so, the play comes full circle to where it all started…
- ISF Dramaturg Kee-Yoon Nahm
Director's Note
The Winter's Tale is a play of oppositions: winter and summer, death and rebirth, tragedy and comedy. Perhaps the thing that sets this play apart from so many of Shakespeare's others is this clash of opposing forces—the first part is an intense, internal descent into dizzying tragic consequences, in the vein of Othello or King Lear. The second, a pastoral romantic comedy reminiscent of As You Like It. But in The Winter's Tale, Shakespeare places these two genres on a collision course, crashing them together in a way that ultimately leaves us with hope.
The first half of The Winter's Tale could be a Shakespearean tragedy on its own. King Leontes of Sicilia finds himself inexplicably jealous of his wife and his best friend Polixenes. The more those around him confront him with the truth, the deeper he digs into his own fantasy version of events, stuck in a nightmare of his own making and unable to pull himself out. Leontes is unable to see the world as it truly is. Because of his status as King, those closest to him cannot contradict his mistaken views, and the ones who try are punished. It isn't until Leontes' actions lead to the death of his beloved son and loss of his wife that he finally wakes up and recognizes his own error. This moment of the hero recognizing his mistakes and his own tragic flaw is usually where the play ends, but in The Winter's Tale, it is just the beginning. Shakespeare uses the conceit of Time personified to move the action 16 years into the future in a blink of an eye, following Leontes to the other side of his nightmare.
The second half of The Winter's Tale is a delight. Now in Polixenes' kingdom of Bohemia, there are clowns and shepherds, songs and dance, and of course a story of two young lovers, who attempt to avoid becoming star-crossed. As audience members, we are given respite from the sadness, an opportunity to laugh and share joys. We move out of the murkiness of Leontes' disordered mind into the light.
Some may see these two parts of the play as disjointed, but I believe they add up to a much greater whole. The Winter's Tale is one of Shakespeare's last plays, and you see him playing with form — asking what if it were possible for the tragic hero to find redemption? Can one ever be forgiven for the worst mistake they ever made?
The Winter's Tale is also very conscious of being itself a "Tale." In Shakespeare's time, a winter's tale was an unbelievable story, often of fairies and sprites, much like the one young Mamillius begins to tell his mother. And indeed, there is much in this play that strains our credulity, with Shakespeare asking us again and again to suspend our disbelief and buy into the coincidences and even magic of the story.
I believe this opportunity to lose ourselves in a well told tale and believe in magic comes at the perfect moment. For many, including myself, this season at ISF marks the return to theatre after a very long time away. And this time has reminded me of how integral theatre is to our lives. We need to believe in worlds outside of our own four walls — in witches and fairy tales, in true love, in the power of forgiveness, and the possibility of healing even the most egregious wounds. Shakespeare, through the vehicle of Paulina, asks us to awaken our faiths, to believe that all of us deserve love and happiness, and that coming to the other side of pain and tragedy is possible. In allowing ourselves to believe in this fanciful tale, we find hope for our own futures.
- Director Rebekah Scallet
Cheat Sheet
Click the image below for the one-page "cheat sheet" for The Winter's Tale.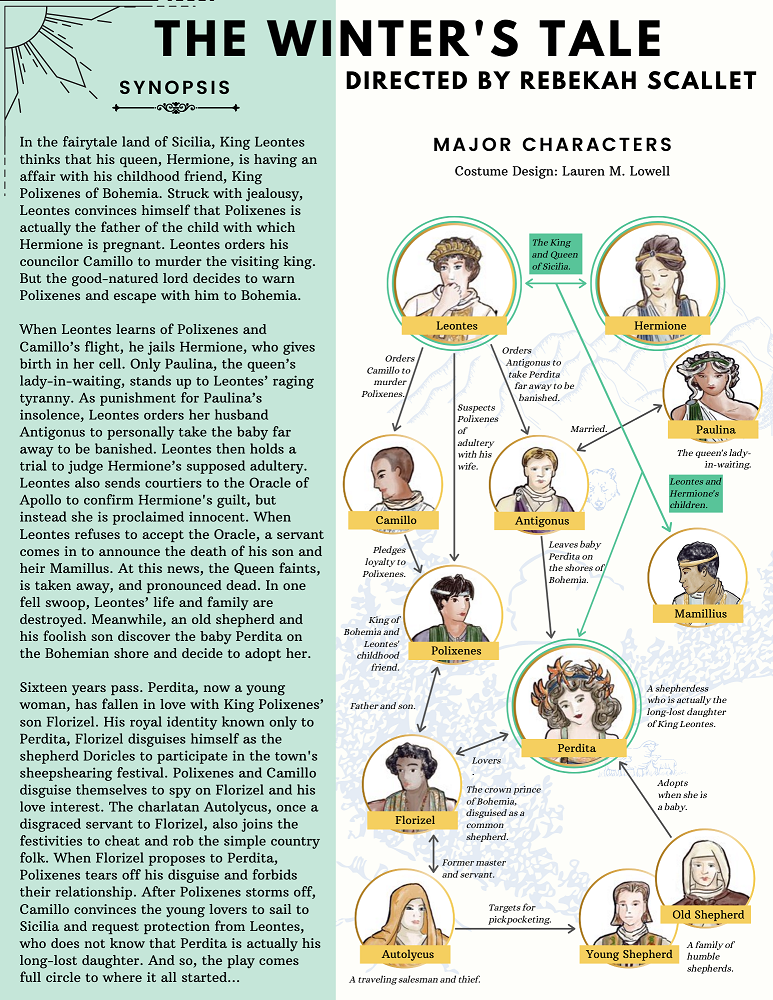 More Articles
For more articles, please visit Dramaturgy