Full Synopsis
Duke Vincentio of Vienna leaves his strict deputy Angelo in charge while he tends to important matters abroad. But this is a ruse; the Duke actually disguises himself as a friar to observe his Viennese subjects up close. What are their lives like? And how will they respond if the government enforces its laws regulating sexuality? Angelo immediately vows to clean up the "lechery" in the city during the Duke's absence. The wise Escalus tries to curb Angelo's harsh enforcement of the law but to no avail. The authorities make a sweep of the city's brothels, rounding up the likes of Pompey and Mistress Overdone.
Controversy arises when Angelo sentences Claudio to death. His crime is getting Juliet pregnant out of wedlock, even though they are betrothed. Claudio sends his friend Lucio to his sister Isabella, a novice nun, hoping that she can beg for his life. Isabella visits Angelo at once and makes an impassioned plea for mercy. But this stirs an unexpected urge in Angelo, who offers Claudio's life in exchange for Isabella's virginity. Horrified, Isabella threatens to reveal Angelo's hypocrisy. Yet she is torn when she hears how fearful Claudio is of death.
The disguised Duke overhears the siblings' conversation and suggests an elaborate plan. He shares information about Angelo's past with Mariana, a woman the deputy once wooed then wrongfully abandoned. The Duke comes up with the "bed trick": Isabella will pretend to consent to Angelo's advances, but Mariana will visit his chamber instead under cover of darkness. Isabella agrees to the Duke's scheme, hoping that it can right Angelo's wrongs toward both Claudio and Mariana. Despite apparently getting what he wants, Angelo still gives the execution order. Having caught wind of his deputy's cruelty, it is up to Duke Vincentio to hatch an even more complex plot to expose Angelo's deeds and set everything right…
 - ISF Dramaturg Kee-Yoon Nahm
---
Director's Note
Law does not and cannot cover all the ground of morality.
To turn all moral obligations into legal obligations would be to destroy morality. Happily, it is impossible.
R.M. MacIver, THE MODERN STATE: 1926
Duke Vincentio's laissez-faire leadership has meant that Viennese laws punishing sexual licentiousness have gone unenforced for 19 years. When the Duke appoints 'the precise Angelo' as his deputy, immediately the pendulum swings to the opposite extreme.
There's a more serious reason why legislating these morals is harmful and wrong, however …
sexual morals become so important, or so singular an obsession,
that human life itself is devalued in comparison.
David Trillo, THE ETHICAL TROUBLE WITH LEGISLATING MORALITY: 2011
The world of Measure for Measure is a world out of balance, particularly where gender and power are concerned. Women have little agency, Men become intoxicated with the authority and status that they possess. Characters who represent the state, characters who represent the church, characters who represent the citizenry, and characters who represent the marginalized all seek–as Isabella demands– 'justice, justice, justice, justice'.
The State will become a splendid thing when each one of us becomes a splendid individual.
The individual is not lost in the whole; he makes the whole…
We do not get the whole power of the group unless every individual is given full value, is giving full value.
Mary Parker Follett, MORAL STATE AND CREATIVE CITIZENSHIP: 1918
The famously ambiguous ending of this play has always invited theatremakers and theatregoers to imagine what happens next…and I invite you to lean into that curiosity. Our world is seeking balance, too. Maybe now is a time for radical imagination, for us all to activate our curiosity about what could come next.
… We live with two incompatible ideas when it comes to women. The first is that women are essential to every aspect of life and our survival as a species. The second is that women can easily be violated, sacrificed and erased.
... As the post-pandemic era unfolds, can we imagine another system, one that is not based on hierarchy, violence, domination, colonialization and occupation? Do we see the connection between the devaluing, harming and oppression of all women and the destruction of the Earth itself? … What if rather than exploiting, dominating and hurting women and girls during a crisis, we designed a world that valued them, educated them, paid them, listened to them, cared for them and centered them?

V (formerly Eve Ensler), DISASTER PATRIARCHY: How the pandemic has unleashed a war on women: June 2021
- Director Jenny McKnight
---
Cheat Sheet
Click the image below for the one-page "cheat sheet" for Measure for Measure.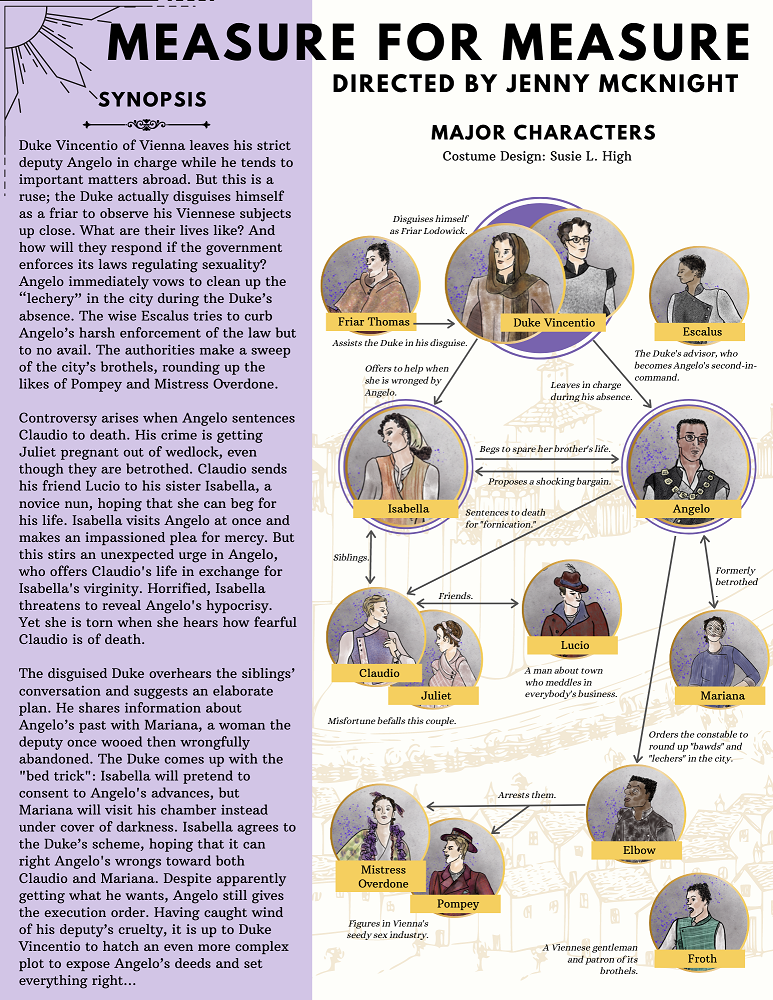 ---
More Articles
For more articles, please visit Dramaturgy