Shakespeare in the Land of Lincoln   
Symposium
you know that Abraham Lincoln has many connections to the Bard? Scholars have studied how our nation's 16th president drew upon Shakespeare's writings. In celebration of our state's bicentennial, the Illinois Shakespeare Festival presents a ground-breaking symposium that explores the ties between these two legendary figures.
Presented in partnership with Bloomington-Normal's Lincoln's Festival on Route 66 and Looking for Lincoln, Inc.
All activities are FREE!
July 14, 2 p.m.: James M. Cornelius, Ph.D. curator, Lincoln Collection, Abraham Lincoln Presidential Library & Museum, Springfield
July 21, 4 p.m.: Spotlight Speaker Michael Anderegg, Ph.D., author of Lincoln and Shakespeare (2015)*
July 28, 2 p.m.: Guy Fraker, Lincoln scholar, author
August 4, 2 p.m.: Robert Bray, Ph.D, Illinois Wesleyan professor, author
Reservations are recommended for these lectures. Reserve your seat online now.
Theatre for Young Audiences
On the same theme, the Festival's Theatre for Young Audiences premiers Double Double, a new play for all ages about how a young Abe discovers the genius of Shakespeare's works and carries that knowledge through his extraordinary life. Written by Nancy Steele Brokaw.
All performances are FREE!
Lincoln's Festival on Route 66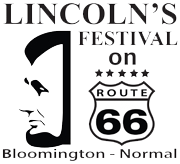 The
Lincoln's Festival on Route 66
in Bloomington-Normal offers a wonderful weekend of events July 20-22
Shakespeareience
View the special collections on Shakespeare and Lincoln, presented at the Illinois State University Milner Library, July 22 only from 1 p.m. to 3 p.m. Details available beginning June 1 at library.IllinoisState.edu. Also free!
Supported by the Illinois Humanities Council in partnership with Lincoln's Festival on Route 66, Looking for Lincoln, and the Bloomington-Normal Area Convention and Visitors Bureau.