TWELFTH NIGHT
by William Shakespeare
Directed by Rick Barbour
This comedy of separation, madness, mistaken identity and unplanned love is one of Shakespeare's most treasured plays. Twelfth Night follows the journey of Viola and Sebastian, twins separated by a shipwreck, as they encounter loss and love in their new homeland-the mythical and magical land of Illyria.
Dates: Preview July 5, Opens July 8, Runs July 12, 14, 17, 20, 23, 26, 29, August 4, 7, 12
HAMLET

by William Shakespeare
Directed by Leda Hoffmann
Deb Staples, who dazzled ISF audiences in 2014 as Cleopatra (Antony and Cleopatra) and Queen Elizabeth (Elizabeth Rex) returns to play the title role in this timeless masterpiece.
Dates: Preview July 7, Opens July 9, Runs July 15, 21, 24, 27, 30, August 2, 5, 10, 13
PETER AND THE STARCATCHER
by Rick Elise
Directed by Andy Park
Peter and the Starcatcher provides a humorous and fantastical backstory for the beloved character of Peter Pan and his arch-nemesis Captain Hook. In this wickedly imaginative play, we meet a poor orphaned child on the high seas simply called Boy because, in the absence of a mother and a father, he was never given a name. His sad and lonely world is turned upside down when he meets Molly, the daughter of a famous Starcatcher. Our heroine is on a mission to save the world and protect a treasure trunk filled with magical star stuff from getting into the hands of evil and greedy pirate Black Stache. As they travel aboard the Neverland ship headed for a faraway land, Molly and Boy learn about love, friendship and forging an unbreakable bond.
Dates: Preview July 6, Opens July 10, Runs July 13, 16, 19, 22, 28, 31, August 3, 6, 9, 11
IMPROVISED SHAKESPEARE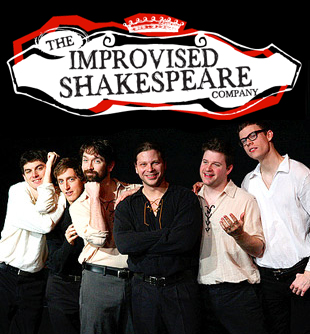 Based on audience suggestions The Improvised Shakespeare Co. creates a fully improvised Shakespearean masterpiece right before your eyes. Nothing is planned-out, rehearsed, or written. All of the dialogue is said for the first time, the characters are created as you watch, and if you're wondering where the story is going, so are they! Come see the show TimeOut Chicago calls, "staggeringly brilliant" and "downright hilarious." If you likedComplete Works of William Shakespeare Abridged, then you will LOVE this nationally recognized improv group! Performances are all one hour long.