Theatre at Ewing
The family of Hazel Buck Ewing, a local philanthropist with an international spirit, donated Ewing Manor in 1969 for historical and cultural purposes to the Illinois State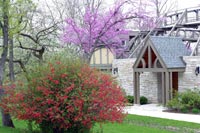 University Foundation.
From 1978 to 1999, the Illinois Shakespeare Festival was produced in a "temporary" wooden structure on Ewing Manor grounds.  Improvements to the Festival's open-air theater were constantly ongoing in order to accommodate the growing audiences and to improve sight lines and acoustic conditions.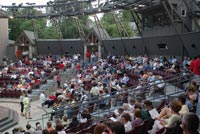 In late summer of 1999, groundbreaking for a new, permanent, open-air theater began.  By the 2000 season, the Festival opened in a comfortable, 438-seat house, architecturally compatible with Ewing Manor. The theater design features: descending concrete tiers in the Roman theatre tradition; underground passage ways; a continuous elevated lighting catwalk; air-conditioned dressing rooms equipped with showers; air-conditioned green room with telephone and bathroom; backstage loading dock with turn around; and backstage scene shot for prop and equipment storage.  In addition, the theater is outfitted with state-of-the-art sound and lighting equipment, new restroom facilities, fully accessible disabled seating, special assistance elevator, and fans for those temperate evenings.